Hi, I am Kushan and Welcome to
Do-Meditation.com!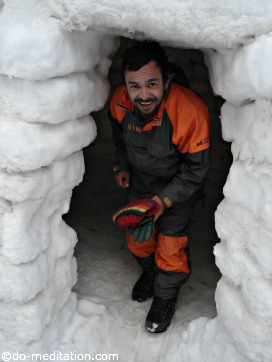 I am a son, a brother, a husband, a father and a friend.
I climb mountains.
I ride motorcycles.
I trade the financial markets, but wish I did professional sports - I swim, bike and run however.
Daily meditation over more than two decades let me retain my sanity in the world of big money where fortunes are lost as easily as they are made. Sometimes in the blink of an eye. I have battle scars to prove it.
I take trading more seriously than ever before, but I still passionately care about my meditation, climbing, riding and sports. 
This website is for sharing the meditation knowledge, experiences and insights gained over the years to help and guide fellow companions on the journey toward inner peace and greater joy.
My quest for 'true' freedom led me to numerous books on meditation, spirituality, religion, yoga and philosophy, animated discussions with various meditation practitioners and experimentation with different meditation styles.
Only to result in what I call a work-in-progress, where I am constantly striving to assimilate the learnings into one coherent whole, which will keep me on the path, now and forever.
This online endeavor is as much about helping my journey mates and friends, as it is about helping myself. As they say, the best way to learn something is to teach it to someone.
There is one more reason for creating do-meditation.com.
Propaganda and misinformation has caused much confusion and apprehension amongst folks new to meditation.
Many people start meditation with a lot of enthusiasm, hoping for quick benefits, but then get little out of their practice and leave meditation completely.
Nothing could be more unfortunate.
This happens mainly because of two reasons: either they are promised unrealistic results or told to follow one particular way of meditating regardless of their background or personal disposition.
"Our way is the only way" or "Our way is the best way" is the motto of a lot of systems or schools out there, and if you can't do it their way, well then sorry, you are out of luck.
No heed is paid to an individual's specific requirements.
I suggest you try different techniques and types of meditation before deciding on one that feels the most comfortable to you.
Then, do it.
Diligently.
If there is any prerequisite for seeing results with your meditation practice, it is diligence.
Practise daily.
It is a bit like boiling water. If you keep switching the burner on and off, the water can never reach its boiling point. For that to happen, you need to apply heat constantly.
The same holds true for meditation. If you sit today for twenty minutes in the morning, tomorrow for ten minutes in the evening, followed by a three day break, then re-start only to stop again, I can guarantee you will not see any benefits whatsoever.
Consistency and constant application are the keys to success.
Decide a time, place and duration for your meditation. Then stick to them.
You will realize amazing benefits in little time from regular practice.
Thank you for taking the time to read about me and wish you good luck on your journey of inner transformation!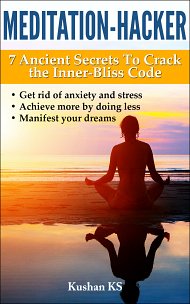 Get my book, Meditation-Hacker: 7 Ancient Secrets to Crack the Inner-Bliss Code and receive valuable information on meditation that you can use to improve the quality of your health and life.