Maum Meditation
"The reason and purpose of why humankind is born is to live eternally in the world of happiness " - Woo Myung 
Maum meditation was founded in 1996 in South Korea by Woo Myung.
Maum means the mind, soul and spirit in Korean. 
The method promises oneness with Truth by covering 8 levels of meditation. 
The underlying philosophy of Maum meditation is that the human mind is an accumulation of pictures that are stored within our mind and body.
Pictures taken by the eyes, ears, nose, mouth and body - "the 5-senses camera." These stored pictures dictate our thoughts, emotions, desires, behaviors and health. And although they are mere illusions, we unknowingly live inside them thinking them to be real. 
The way to move from the false, illusory world of our mind to the True, infinite universe mind (Bonbadak in Korean) is by discarding the images that we have accumulated since birth. 
So far so good.
But, what method of meditation is followed? How does one practice? For how many hours?
I decided to find out first hand by attending their free seminar at my local center. 
Here is what I witnessed (and my two cents on the experience):
A slick video with hundreds of smiling faces (always great to see happy people, but at times looked more like a toothpaste commercial than a meditation group's video)
Exact numbers. 453 to be precise. The number of people who have 'attained enlightenment' (level 8) through Maum meditation in the area where I live (impressive, but I wonder how those numbers are tracked)
No disclosure of the meditation process (my repeated requests, four in total, were waived off, as it simply cannot be told without getting enrolled first)
No meditating at home! You have to go to their centers to meditate (other than being highly inconvenient and impractical for most people, I found it just strange)
Each meditation sessión should be at least 2-3 hours, preferably 3 hours (well, if you can meditate for 3 hours every day, you will succeed with any method or technique under the sun)
Regular practice for 6 weeks will take you to level 2 (hmmm, a big red flag, a definite promise doesn't work in the field of inner transformation, heck, it usually falls flat even for the easier to achieve outer transformation, as countless diet/weight loss programs will testify)
7-step 'guided' method of subtraction that "allows you to become free of your human mind by changing to the infinite universe mind." (good, but you will depend on external help throughout the entire process. Not bad in itself, especially if you find the right master, but why should one have to go to their center until 'achieving' enlightenment)
More numbers. In a survey conducted by the Korea Association of Statistics and Information, more than 90% of 473 meditation students in levels 3 and 4 reported feeling less stressed, happier, having improved relationships and becoming better at self-reflection (dubious sounding authority body, which by the way, I couldn't find through Google; wonder how they define their various levels and classify people into them)
Some testimonials including the personal experience of the mentor/facilitator holding the session 
Finally, you are URGED to immediately sign-up. No need for deliberations, as it is a "question of your life and death" (really? - I mean it may be, but paying someone $200 will instantly put me out of harm's way?) 
And the best, "If you think too much you will never join." So PAY $200 per month NOW (became quite desperate toward the end)  
To sum it all up, it is hard to argue with Maum meditation's core philosophy. It makes sense. The stored images it talks about are nothing but sanskars or impressions, which find mention in Vipassana, Sahaj Marg and various Buddhist schools.    
But, the whole secrecy around the meditation process, the forced method, whereby you can only meditate at their centers, and the urgency to get your money totally put me off.
It may still be a good method and a good organization, if they can deliver on their promise to "make you free of the pictures, free of the incessant recording and hence free of the illusory false world." 
But the way the free seminar was conducted, I wouldn't bet on it. 
So, there you have it. Give Maum meditation a try, if you will, but there are enough resources out there, starting with this website, that can be utilized for free to start your meditation journey.
All my best wishes!
Return from Maum Meditation to New Age Meditations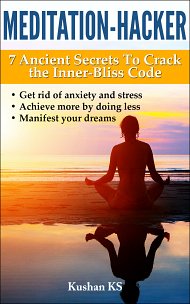 Get my book, Meditation-Hacker: 7 Ancient Secrets to Crack the Inner-Bliss Code and receive valuable information on meditation that you can use to improve the quality of your health and life.