The Discontented Ox
"Do not feed your spirit on anything apart from God. Cast away all cares and let peace and reconciliation fill your heart" - St. John of the Cross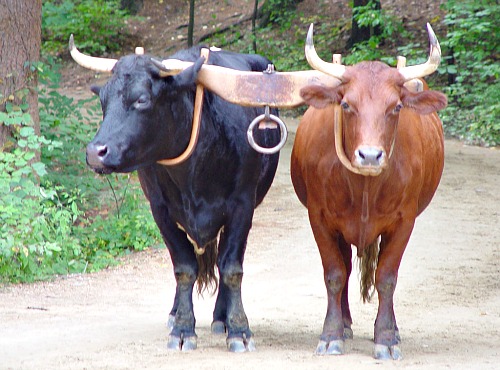 The story, 'Discontented Ox,' is one of the 547 jataka stories, which form part of the Pali canon.
Once upon a time in Benares, the boddhisattva came to life as an ox in the family of a farmer. 
The boddhisattva had a younger brother, the discontented ox, and together they did all the draught-work of the family. 
The farmer had a beautiful daughter, whose hand was asked in the marriage by a wealthy landlord for his young son.    
Being poor, the farmer's family, in order to furnish a dainty feast for the wedding guests, started fattening the pig they owned.  
Observing this, the younger ox said to his elder brother, "While you and I draw all the loads of this family, we get to eat only straw and grass while this pig is fed rice whole day for doing nothing. What is the reason for the pig receiving such good treatment?"
The older ox replied, "Envy him not, my dear brother, for the pig eats the food of death. The family feeds the pig to serve a relish at their daughter's wedding. Wait, but a little time, and the guests will be coming. Then you will see the pig lugged out, killed and laid at the table for the guests to eat." 
He continued, "Envy not the pig, this death he eats. Contended, munch your frugal chaff, the pledge and guarantee of length of days"
Soon enough, the guests all arrived and the pig got cooked into various kinds of dishes. 
The boddhisattva said to the younger ox, "Did you see the fate that befell the pig, dear brother?"  
"I have seen the outcome of the pig's feasting. Better a hundred, nay a thousand times than such food is ours, though it be only be grass, chaff and straw - for our fare harms us not, and is a guarantee that our lives will not be cut short."
The Discontented Ox, from the Pali Buddhist scriptures, is a very popular jataka tale or story for children. 
Similar to this meditation story, which teaches the importance of contentment in our lives, is the story, Feast for the Dead that teaches non-violence and compassion.
I am sure you will like reading it as well as The Fowler and the Quails.
Return from The Discontented Ox to Meditation Stories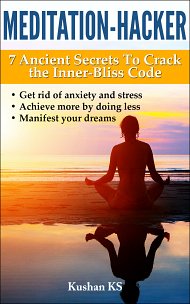 Get my book, Meditation-Hacker: 7 Ancient Secrets to Crack the Inner-Bliss Code and receive valuable information on meditation that you can use to improve the quality of your health and life.